The tourist ticket is a personal card that allows to make an unlimited number of trips, using the regular passengers transport services operating within the chosen zone, but with the appropriate exceptions.
This ticket exists in modality Multi Card.
How to acquire it
The Tourist ticket can be purchased in the following points of sale:
Charge
The charging points network are the following:
Types of tourist ticket
There are six types of tourist tickets depending on its validity: 1, 2, 3, 4, 5 or 7 calendar consecutive days.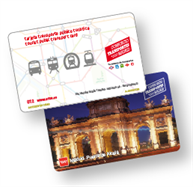 There are tourist tickets depending on the age: regular and children types (children under 11 years old).
There are two zones available for these tourist tickets: Zone A and zone T
Zone A: in accordance with zone A boundaries, roughly coinciding the limits of municipality of Madrid.
Zone T: for the same geographic rings of the Madrid Region covered by travel passes, included Zone E2.
Validity
These tickets are valid from the time of their first use and for the calendar consecutive days included in the selected ticket. Their validity period will also be in force for the night services until 5.00 AM on the last day.
Tickets for zone A can be used in:
Metro of Madrid, for all lines within zone A.
EMT, for all buses lines, excluding the Airport Express EMT Bus Line.
RENFE* for suburban railway stations included in zone A.
Light Rail ML1.
Besides, tourist tickets for zone T are valid for the above mentioned cases and also can be used in:
Metro of Madrid network, in all services.
Regular Public transport services by road, for all lines included in this zone.
RENFE, in all suburban rail network services.
Light Rail ML2, ML3 and ML4.
(*) Tourist tickets are not valid for RENFE Regional Services.
All of this, subject to the exceptions to be set out by the Consorcio Regional de Transportes de Madrid.
Once the Tourist ticket is consumed, you can charge single and ten trips tickets in the Multi Card.
Fares
These are the current fares:
| Zones | 1 day | 2 days | 3 days | 4 days | 5 days | 7 days |
| --- | --- | --- | --- | --- | --- | --- |
| A | 8,40 € | 14,20 € | 18,40 € | 22,60 € | 26,80 € | 35,40 € |
| T | 17,00 € | 28,40 € | 35,40 € | 43,00 € | 50,80 € | 70,80 € |
Children under 11 years old can obtain a 50% discount.
Tourist ticket information
Plaza Descubridor Diego de Ordás, 3. 28003 Madrid.
Phone: 012